Click HERE to listen/order on bandcamp
---
Hot on the heels of the acclaimed neo-berlin school album "mysterious cave of eternal theta" comes another berlin-school inspired collection of songs, computerchemist has opted for a more rockier and uptempo theme this time around.
---
label: Terrainflight TF022
release date: 1st Aug 2023
track listing:
twilight trail 11:21
berlin school for four pianos no. 1 06:48
testcard 15:16
green twilight 12:32
berlin school for four pianos no. 2 12:52
the magnetism of thought 07:05
dave pearson: keyboards, sequencer and drum programming, bass guitar, lead guitar
photography: alex pearson
all composing, mixing and mastering in the digital domain at terrainflight hungary
between may 2023 and jul 2023
written & produced ©℗ 2023 by dave pearson
thanks: my wife and family, and everybody else who has helped to
encourage and support my music over the years
contacts:
terrainflight: info@terrainflight.com
dave: https://www.computerchemist.com
If you want to hear more things more often, buy me a coffee? ko-fi.com/computerchemist
---
Reviews
Jerry Kranitz

Soundtrack to my Thursday morning work day is the latest from Dave Pearson's Computerchemist, titled Green Twilight. It's all Dave on keyboards, sequencer and drum programming, bass and lead guitar. I like the Berlin school with rockin' vibe. KILLER space-prog, bouncy funky syncopations with tantalizing melodies, dreamy piano concertos in the cosmos, and thematic symphonic soundtrack explorations. Beautiful!
Pre-orders for the CD and download are at the Computerchemist Bandcamp site. Release date August 1, and one track available to stream now.
Jerry Kranitz, 27 July 2023
---
Michael Shipway – Sequences Podcast

Hot on the heels of the excellent "mysterious cave of eternal theta" comes this latest release from computerchemist. The opener "twilight trail" sets the scene with some super Berlin School sequencing, including the requisite ratcheting, as well as big pad sounds, electric piano, mellotron strings and a nicely over-driven lead guitar which puts in an appearance with some laid-back drums to create a rich Berlin School track with a rocky edge. A wonderful way to spend 11 minutes and 21 seconds.
The mood is changed with the appearance of "berlin school for 4 pianos No 1" which as you might guess, sounds like the interaction of 4 pianos, each playing Berlin School type sequences. Quite experimental and ultimately successful. Berlin School 'normality' returns with "testcard" which at over 15 minutes proves to be the longest track on the album. The funky feel to the arrangement pushes the track to the edges of Berlin School but all the ingredients are still there, including sequences, mellotrons and synthesisers. Together with drums, it proves to be one of the more lively tracks and includes an annoyingly effective earworm that will attract you back again and again.
The title track "green twilight" starts in an atmospheric vein but together with a 'tribal' feel rhythm and some heavy sounding synthesiser chords it builds slowly to a crescendo before acquiescing to some evocative choirs and distant animal howls. An excellent track and worthy of its pole position for the album title crown. The return of "berlin school for 4 pianos" but this time as "No 2" again showcases the style and moves forward from those ideas in "No 1" using Berlin School style sequences on pianos. Again, quite experimental and ultimately successful. With soaring lead synthesisers, guitars, mellotrons and drums, the grand finale is provided by "the magnetism of thought", the most rock oriented track on the album and a fitting closure to this journey through the Berlin School world of the album.
Although still firmly rooted in the Berlin School genre, "green twilight" moves into rockier sounding territory than its predecessor had occupied. However, the quality of the recording is still as high as ever and the variation between tracks provides interest that will demand many repeat listenings.
Michael Shipway, Sequences Podcast, 2 August 2023
---
Bruce Gall – Atmospheres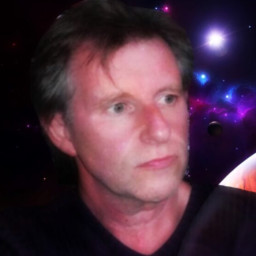 Computerchemist does not stand still for long and is always musically on the move. His second album in 2023 brings us more of what we have come to expect from Dave Pearson and it's all a mix of his favourite styles of music! We get a couple of surprise (in my humble opinion) piano exercises, almost classic in style at times, in the tracks "Berlin School For Four Pianos Parts 1 & 2".
There's the very accessible and catchy "Testcard" and not forgetting the wonderful Berlin School/krautrock/prog rock sounds of "Twilight Trail," "Green Twilight" and "The Magnetism Of Thought" that computerchemist is very adept at producing. As always Dave composes, plays, mixes and masters the whole shebang! Very worthwhile taking an hour or so to revel in.
Bruce Gall – Host of Atmospheres (www.mixcloud.com/synthbruce), 2 Aug 2023
---